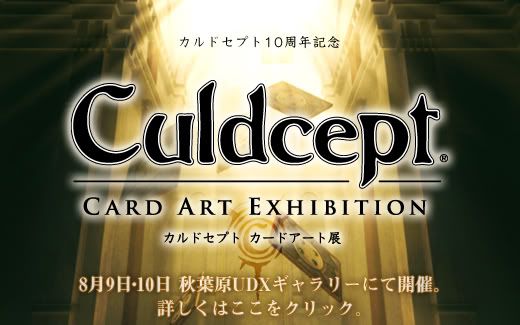 Culdcept é um jogo de estratégia e turno com cartas, uma mistura Banco Imobiliário (Monopoly) e Magic: The Gathering. A série teve grande popularidade no japão e nos Estados Unidos quando foi lançado para o Playstation 2 em 2003. Mas apesar de vender pouco na América criou um publico forte de fãs. A baixa fabricação de cópias do jogo fez dele uma peça rara.
Em Culdcept, o jogo irá controlar um Cepter. Cepters podem realizar várias habilidades através de cartas mágicas, como invocar criatueras, lançar magias, e realizar outras feitiços mágicos. Ao avançar no jogo novas cartas serão adquiridas, podendo então formas "decks" (conjunto de 50 cartas) para enfrentar melhor seus inimigos.
Apesar de o jogo é relativamente complicado, o jogo se encarrega de ensinar os conceitos básicos. Agindo como um árbrito que automaticamente mantem as regras do jogo. Depois de algumas sessões de jogo, o jogador é capaz de descobrir diferentes diferentes estratégias e ser capaz de tornar seu deck eficaz e conssequêntimente otimizar suas habilidades.
Existem dois modos no jogo:
Modo história, a parte mais simples do jogo onde o jogador irá destravar novos tipos de jogo e algumas cartas que só estão no modo história. Depois que é concluído, os desafios restantes são postos como desafios onde o jogador poderá ganhar medalhas ao confrontar um deck aleatório mais fácil ou robusto. o sietma de medalhas é um meio de incentivar o jogador a construir decks incomuns, ganhar cartas únicas e abrir novas opções.
Modo Versus, jogar contra um amigo ou computador. Este modo foi prejudicado pois como os jogadores jogam numa mesma mesa, era possível visualizar as cartas do oponente. Os jogadores também podem trocar cartas, mas com limitações, para que o jogador iniciante não adquira cartas muito poderosas e para que não seja possível clonar as cartas existentes.
A jogabilidade lembra o Banco Imobiliário (Monopoly) onde os jagadores deve rolar um dado (ou dois dados dependendo da magia) para se deslocar no tabuleiro. No entanto em vez de comprar imóveis e colocar casas e hotéis, um criatura será convocada através de uma carta mágica para proteger a área baseando-se nos atributos da cartas, dai vem o aspectro de Magic: The Gathering. Se um adversário para em uma de suas propriedades, o adversário não pagará uma taxa, mas sim optar por atacar a área protegida pela criatura para que então possa retomar aquele território para si.
Existem 4 cores que representam diferentes tipos de terreno, por exemplo, Verde = floresta. Quanto mais um jogador investe na propriedade de "level it up" (traduzindo, investir nas casas ou adicionar um hotel), o terreno florescerá (por exemplo, as florestas se tornam mais densas). Com isto a defesa da criatura do tipo de cor correspondente aumentará. Coletando mais territórios e da mesma cor (criados algumas redes), as criaturas bem como os territórios teram seu valor (habilidades) aumentados.
Culdcept inclui também cartas item que irão ajudar durante as batalhas para atacar, defender ou manipular a batlha de diversas formas. Essas cartas item podem também causar vários efeitos nas criaturas, terrenos e Cepters.
Couldcept também ganhou uma série de mangá baseada no jogo original (versão para Playstation One). O manga conta a história de um aprendiz Cepter chamado Narajan que ajuda a salvar a Culdcept ( com seu  pessimista bastão falante, Gogligan), o livro que o deus Culdra havia guardado todas as cartas desde a antiga Guerra dos Deuses.
Culdcept teve sua versão original para Playstation One em 1999, Culdcept Expansion , e ganhou uma sequência para o Dreamcast em 2001, Culdcept Second. Em 06 de Abril de 2007, fou anunciado que uma nova saga de Culdcept estaria em desenvolviomento para o Xbox 360 e que seria lançado no ano seguinte no Japão com previsão de lançar posteriormente na América do Norte para dia 05 de Fevereiro de 2008. Foi confirmado também que uma versão para o Nintendo DS publicado pela SEGA que está prevista para 16 de outubro de 2008 no Japão, porém sem previsão de um versão Americana. A versão para o Nintendo DS será em comemoração aos 10 anos de Culdcept.
Versão Playstation 2:
Versão Xbox 360:
Versão Nintendo DS:
Site Oficial: http://www.culdcept.com/10th/
Couldcept DS: http://www.culdcept.com/ds/index.html
Após esta longa leitura, fique agora com o trailer de Culdcept para o Nintendo DS:
Trailer:
Fonte: Gametrailers
Tags: Culdcept, Estratégia, Playstation 2, Playstation One, RPG, SEGA, Tabuleiro, Xbox 360